#029 Eduardo Fiallos
In this episode of the Decoding Excellence Show, I am interviewing my good friend, coach & fellow data-junkie, and University of Colorado's Volleyball Technical Coordinator, Eduardo Fiallos.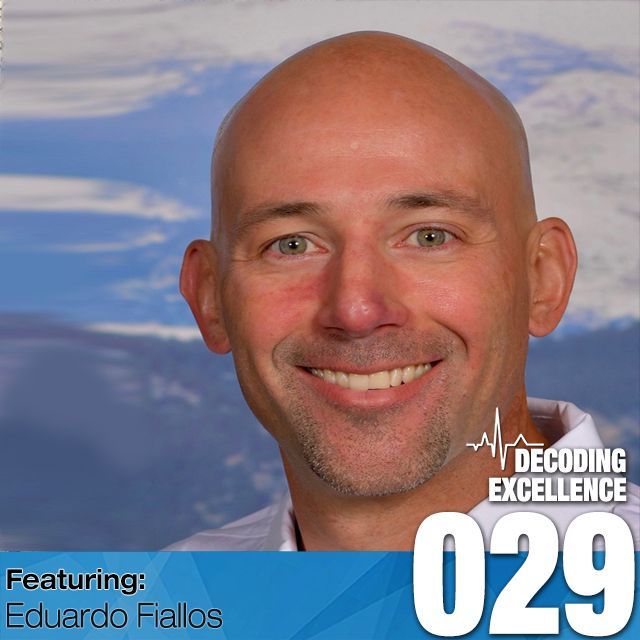 In this episode of the Decoding Excellence Show, I'm interviewing my good friend, fellow data-junkie, and University of Colorado's Volleyball Technical Coordinator, Eduardo Fiallos.
Outside coaching, Eduardo works as a Technical Coordinator in women's college volleyball, which means he spends a great deal of time collecting and analyzing data about the game at a high level. This experience has provided Eduardo tremendous insight on how coaches and athletes view statistics - as well as how both use those statistics to inform training and competition.
Eduardo joined the Buffs after spending four seasons at the University of Denver. In 2016, he served as the director of operations and from 2013-16, he was a volunteer assistant coach. Eduardo, who coached three seasons at Denver, was part of three straight Summit League Championship teams and three consecutive NCAA Tournament appearances for the Pioneers. Eduardo has been a coach at the collegiate level since 1997, spending time at five different universities. Eduardo was at Arizona (1997), Cal State-Dominguez Hills (1997-98), Louisiana-Lafayette (1998-99), North Carolina State (2006) and Denver (2013-16).
This was a really fun show to record and I know you'll get many good things out of it. We discuss his journey into coaching, the relationship coaches (and athletes) have with data and statistics, his role and responsibilities as Colorado's Technical Coordinator, some of his favorite data/statistic resources, great and impactful books, and MUCH MORE!
This was also THE VERY FIRST show I have ever recorded LIVE & IN PERSON. I am looking forward to doing a lot more live shows (and if you happen to be around the Boulder, Colorado area, lets hop on the microphone together and record a show). With this being the first live show in the Decoding Excellence Show history, I had a bit of audio difficulties with the dual microphones being too close together.
Live & Learn.
You can catch up with Eduardo on Twitter at @EduardoCoaches or at his website at EduardoCoaches.com
In addition to those social mediums, you can head over to AdamRingler.com/Newsletter and sign-up for my weekly newsletter. This is a newsletter for the curious. It's chalked full of interesting articles I've read through the week, things I'm exploring and finding fascinating through my week, and a collections of thought experiences and resources I've cultivated. It's essentially a Birchbox for performance-related articles and musings.
If you are looking to help grow and support the Decoding Excellence Show, navigate over to Buy Me a Coffee. Buy Me A Coffee is a an easy & fun way to support the show. For the price of a Grande Latte ☕ you can support the show and help us maintain the quality of the content.
One hundred percent of the contributions go directly to supporting the hosting fees associated with operating this podcast. As always, thank you for supporting the Decoding Excellence Show!
If any of the material resonates with you, I'd love for you engage with me at @AdamRingler
Thanks again for listening to the Decoding Excellence Show! I appreciate all the support growing this Sport Science, Strength & Conditioning, and High-Performance Coaching resource. If you have taken anything away from the show, please login to iTunes and navigate to Decoding Excellence page and leave us a review.
---