#008 Greg Adamson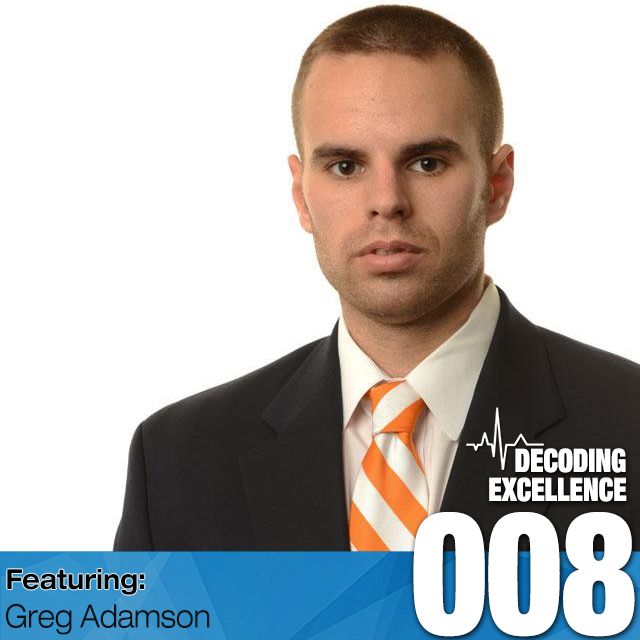 In this episode of the Decoding Excellence show, I am speaking with Assistant Strength & Conditioning Coach for the University of Tennessee, Coach Greg Adamson.
Coach Adamson to Tennessee after serving as the assistant strength and conditioning coach at Winthrop in 2011-12. While at Winthrop, he developed training regimens and programs for women's basketball, baseball, men's & women's Soccer, track and field, men's tennis, and lacrosse. Prior to his time at Winthrop, he served as a graduate assistant for strength and conditioning at Central Michigan for two years, where he worked with four top 25 teams.
Coach Adamson and I discuss:
His background into S&C
Coaching progressions & evolutions
Empowerment & Education
Battling Entitlement
The Power of Youth Coaching
Characteristics of Great Coaches
Problem Solvers & Enthusiasts
Favorite Books from 2016
Utilization of Sports Technology
Building Sport-Science Buy-in
His Definition of Excellence
You can catch up with Coach Adamson on Twitter at @UTCoachGreg
This episode of the Decoding Excellence show is brought to you by Vald Performance, the makers of the NordBord, DashBord, and the GroinBar. They can be found at ValdPerformance.com
Stay updated with the podcast by following me on Twitter via @AdamRingler
In addition to those social mediums, you can head over to AdamRingler.com/Newsletter and sign-up for my weekly newsletter. This is a newsletter for the curious. It's chalked full of interesting articles I've read through the week, things I'm exploring and finding fascinating through my week, and a collections of thought experiences and resources I've cultivated.
It's essentially a Birchbox newsletter for performance-related articles, research, and daily musings.
Thanks again for listening to the Decoding Excellence Show! I appreciate all the support growing this Sport Science, Strength & Conditioning, and High-Performance Coaching resource. If you have taken anything away from the show, please login to iTunes and navigate to the Decoding Excellence page and leave us a review.
---