#021 Dr. Joe Eisenmann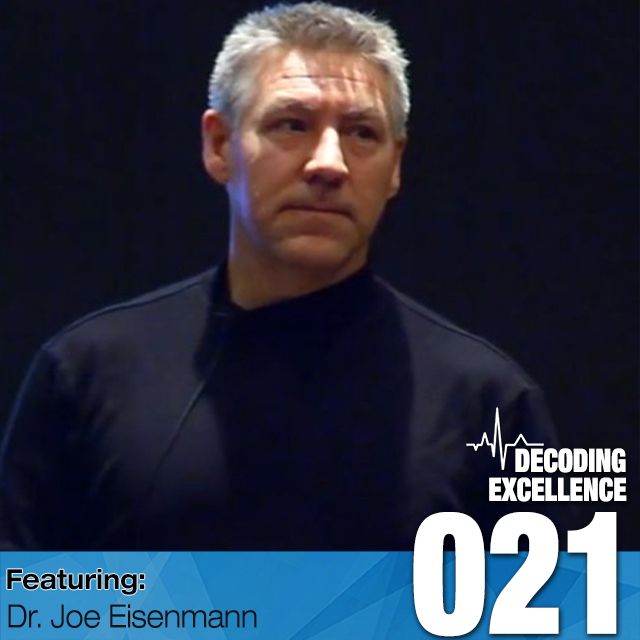 In this episode of the Decoding Excellence Show, I am joined with USA Football's Director of High Performance and Education, Dr. Joe Eisenmann.
Dr. Joe Eisenmann is a currently the director of High Performance & Education at USA Football. In this role he oversees the development & implementation of the American Development Model, long-term athlete development, coach education, and athlete health & safety. Prior to joining USA Football, Dr. Eisenmann was the Director of Spartan Performance in East Lansing, MI. Spartan Performance is a youth training facility dedicated to providing athletes a holistic, integrated, evidence-based approach to sports performance and athletic health through testing, training, sports nutrition, research and community outreach.
Dr. Eisenmann has held academia-centric and research positions at Helen Devos Children's Hospital, Michigan State University, and Iowa State University.
On the show, Dr. Eisenmann & I discuss:
His background into high performance and USA Football
Application of Translational Sport-Science
Strong influences and mentors in his journey
Predictions on Performance Technologies
Intelligence Quotient vs. Emotional Quotient
Importance of Coach Wellness & Health
You can catch up with Dr. Eisenmann on Twitter at @Joe_Eisenmann.
This episode of the Decoding Excellence show is brought to you by Vald Performance, the makers of the NordBord, DashBord, and the GroinBar.
They can be found at ValdPerformance.com
Stay updated with the podcast by following me on Twitter via @AdamRingler. In addition, you can also subscribe to my Facebook page at Facebook.com/AdamRingler to receive real-time access to high-quality articles, my daily thoughts, live broadcasts, and much more.
In addition to those social mediums, you can head over to AdamRingler.com/Newsletter and sign-up for my weekly newsletter. This is a newsletter for the curious. It's chalked full of interesting articles I've read through the week, things I'm exploring and finding fascinating through my week, and a collections of thought experiences and resources I've cultivated.
It's essentially a Birchbox newsletter for performance-related articles, research, and daily musings.
Thanks again for listening to the Decoding Excellence Show! I appreciate all the support growing this Sport Science, Strength & Conditioning, and High-Performance Coaching resource. If you have taken anything away from the show, please login to iTunes and navigate to the Decoding Excellence page and leave us a review.
---