If your looking to gain a competitive edge on speed, strength, power, and conditioning, than my beginner's sports performance program is for you!
My training system provides the crucial fundamentals of successful performance training in a convenient two-day a week structure. It is crucial to develop the skills to help establish optimal athletic performance and reducing injury potentials
My training programs bring the same attention to detail, fundamental approach, and functional methodology used with past professional and collegiate athletes to support and prepare athletes in the Boulder, Colorado area.
As a leader in performance training in Boulder, Colorado I prepare athletes to get the most out of their bodies by increasing strength, power, speed, endurance, and mobility; leading to increased performance productivity and decreased injury potential.
Training programs also focus on proper nutritional support and regeneration techniques to improve performance and educate athletes outside the gym to improve overall performance.
What do I provide?
Integrated Performance Training for Athletes
My Developmental Mission:
Training will focus on instilling healthy fitness training habits, so every athlete can have the best chance to succeed in athletics and sports. My training lessons focus primarily on:
Bodyweight Strength Mastery
No matter the sport, in a long-term athletic development model, it is important to learn how to control your body. I take a long-term approach to your development and ensure that our training established fundamental movement competencies first. If you struggle to move under bodyweight, there is no sense adding additional load. As you gain control to add strength and demonstrate bodyweight strength mastery, I'll add external loads to increase levels of resistance.
Athletic Positioning
In every sport, the athlete who is in the best position often wins. So much of training is focusing on developing the understanding of proper position. During our training, we'll focus on teaching, teaching, TEACHING proper athletic position to the athlete has a complete understanding on how to properly develop and absorb forces.
1st Step Quickness & Linear/Lateral Speed Development
The cliche "speed kills" is repeated so often because it's true. The faster athlete can get to the ball, their opponent, or across the finish line faster than their counterpart. My focus is developing speed through teaching proper running and speed mechanics during every session.
Jumping & Landing Mechanics
What goes up MUST come down. It's the law of gravity. So true is that the athlete that jumps in the air must have a fundamental understanding of how to properly land. Without that understanding, an athlete can be exposed to thousands of repetitions adding additional strain to their joints and ligaments. My training will focus on educating athletes how to land and properly absorb forces.
Sport Specific Conditioning
"Fatigue makes cowards of us all".  My conditioning programs are centered around ensuring that the work your athlete does transfers to their sport. There is no sense running miles and miles if your event demands only 10 seconds from you; yet we see this done countless times in gyms across America. My conditioning is tailored specifically to the athlete's level of preparation, sport demands, and level of training.
Who am I as a Coach?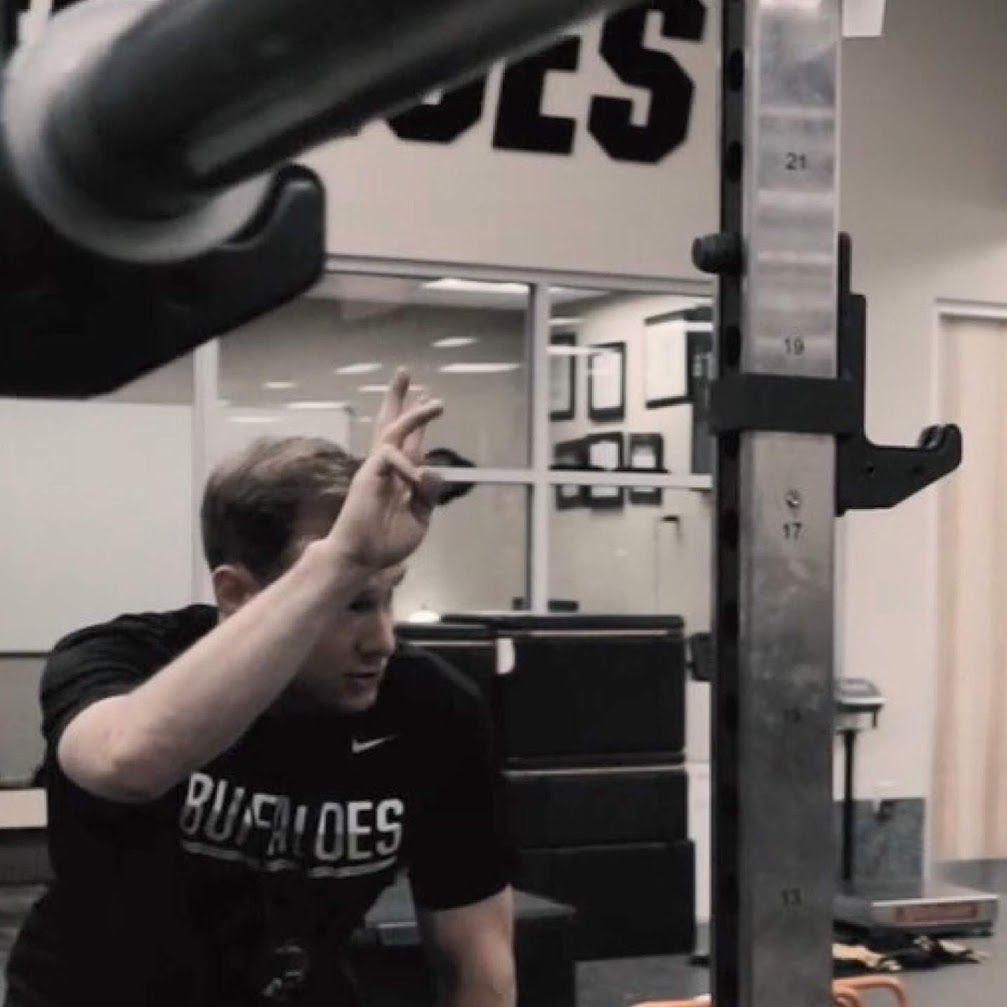 10 Years of Sport Science, High-Performance, and Strength and Conditioning Experience
I am entering my tenth year of coaching at the collegiate level with stops including Michigan State University (BIG10), Wichita State University (AAC), and most recent position at Boulder (PAC12). My central focus while at Colorado is helping athletes achieve athletic career longevity and enhanced performance. My philosophy is centered around understanding the individual athlete and developing strategic performance models that constantly evolve to best serve the athlete's holistic performance.
My direct responsibilities include the integration of sport-science, utilization of cutting-edge technology, applied sport-psychological principles within an innovated strength and conditioning program. I am responsible for the day-to-day education, assessment, curriculum development, and mentorship of several professional interns each semester.
My experiences have directly assisted with the physical and mental preparation of multiple Olympians, professional athletes, All-Americans and conference championship teams.
I hold direct experience as an instructor in the classroom and also as a professional mentor to many young strength & conditioning coaches in collegiate athletics. I continue to consult with many collegiate programs regarding program design, training equipment, and the administration of analytics, sport-monitoring, and athlete benchmark testing protocols.
While at Michigan State University, I was a graduate assistant strength and conditioning coach and worked with multiple Big 10 championship teams and several individual All-Americans. I assisted with the strength and conditioning programs for 17 Michigan State Olympic sport teams.
What to Expect from a Session?
Performance Training
Speed – Running mechanics and agility
Power – Strength training and plyometrics
Conditioning – Proper conditioning to improve work capacity
Flexibility – Increasing joint and muscle strength and durability
Performance Testing
Vertical Jump
10-yard acceleration
VO2 Sub-max
Muscular strength
Injury Prevention
Functional Movement Screening™ – Identify areas of weakness and develop corrective strategies
Regeneration – Aid in workout recovery to keep your body ready to perform each day
Prehab exercises – Target areas of the body to help prevent injuries
Nutrition
Nutrition 101 – Understand how to fuel and hydrate the body to achieve peak performance before, during, and after games and practices